Well, spotting and trading the Rangebound/sideways price areas is one of the simplest acts.
But sadly, most traders FAIL to do that.
And the root cause behind that is the lack of imagination and pre-conceived knowledge. And both the creations not only play an essential role just in trading but in most parts of life too.
So, let's look at today's charts to see where the Rangebound Price Areas were occurring.
Nifty opened gap-up, did high around 17716 and moved down. Then again moved up and did high around 17726 level.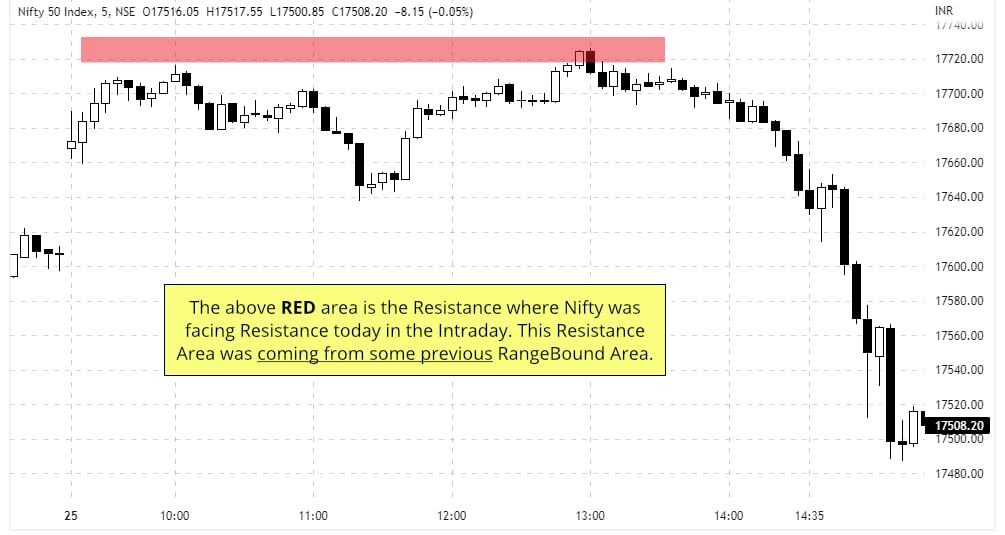 The point at which Nifty was facing resistance was coming from some previous Rangebound area. Now that's an art to find an important price AREA and then use it correctly to spot levels that truly matter. 
Now let's move forward on the lower 05-minute timeframe chart of Nifty to see the Rangebound Price Area.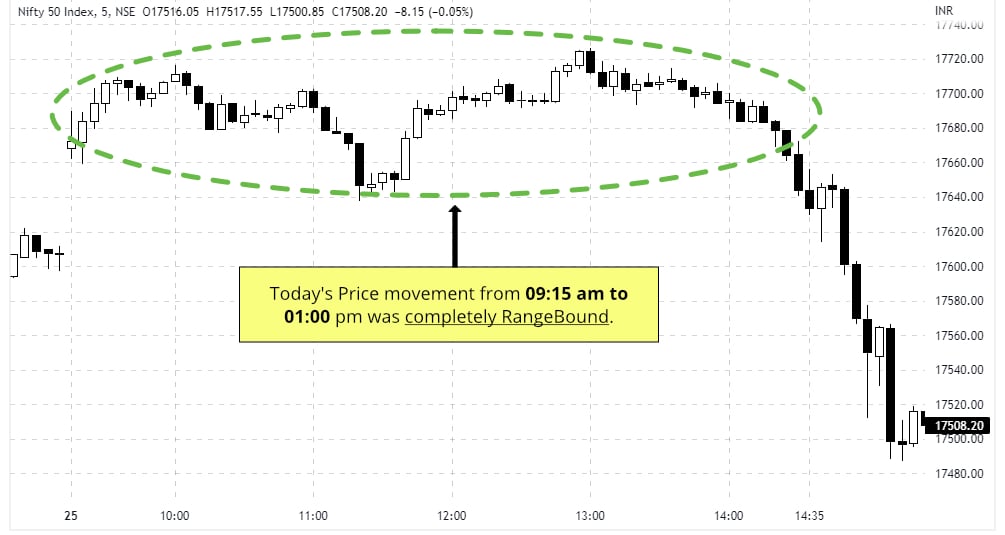 And on today's 05-minute chart, the complete move from 09:15 am to 01:00 pm was a Rangebound. Most conventional technical users won't consider it as a RangeBound. But that won't change the truth. The truth will remain the truth. And that is how Preconceived or bookish knowledge kills most of the traders. They are so lost in the standard version of things that they miss seeing reality.
And then Finally, around 01:30 pm price triggered the sell signal of the Rangebound price area, from which the Nifty fell nearly 200 points.
And here is how I used that Sell signal for taking the intraday trade.
So, that's the power of the imagination. It helps to see and spot things uniquely, which truly matters. And, of course, one needs to free oneself from the pre-conceived knowledge to see & utilize things differently.
If you want to know more about the RangeBound Trends Method, then click here or read the post below to understand more about it.
An Essential Trading skill that Every trader Needs
Profit Opportunities of Today's Rangebound Market
A Classic Example of How a Rangebound Price Area Shows Signals for the Trending Moves