In the last Nifty Technical Analysis, we discussed. Bulls are in a strong position, and they need to Protect 12010 on EOD basis for further rise. Nifty Bears will get active below 12010, for the move towards 11960/11910/11800 price level.
Yesterday, Nifty Tumbles 180 Points Below 12010 support level. As soon as Nifty break below the 12010 support level, it started falling.
At the End of the day, Nifty tumbles 180 points and made the low around 11830 levels. Bears did almost all there targets below 12010 support level.
From a short-term perspective, Bears have an advantage. It will be critical to see if Nifty trade below 11800 levels for the further downside.
Nifty Intraday Trading Outlook for 07th June
Nifty Support for today in Intraday is at 11825/11785/11700 & Resistance is at 11890/11930/12025.
Note: Above mention price projection & other Information are for educational purpose only.
Last week on Monday, after hitting a low around the critical Gann level, both Nifty and Bank Nifty traded higher for the rest of the
Read More »
Last week, Gold and Silver traded higher and gave the close in the vital zone. Both precious metals can show higher levels in coming sessions.
Read More »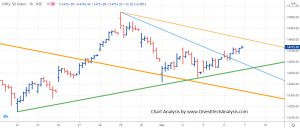 The last analysis levels worked perfectly. Both Nifty and Bank Nifty Index took exact support from the discussed support levels. Both will possibly hit the
Read More »