In the Last Nifty Intraday Trading View Analysis, we discussed.
Nifty Bulls need close above 11870 for further rise & Bears need to move below 11640 levels.
Yesterday Nifty first move above 11870 & made the new lifetime high.
Later on it moved below 11640 also. However, finally Nifty gave close above 11640 price level.
Now after election result event, for Nifty Bull's view is still the same; they need a close above 11870 price level.
Nifty Bears need close below 11620 for further decline.
Nifty Intraday Trading View for 24th May
Support for today in Intraday is at 11590/11530/11410 & Nifty Resistance is at 11700/11760/11880.
Note: Above mention price projection & other Information are for educational purpose only.
Last week on Monday, after hitting a low around the critical Gann level, both Nifty and Bank Nifty traded higher for the rest of the
Read More »
Last week, Gold and Silver traded higher and gave the close in the vital zone. Both precious metals can show higher levels in coming sessions.
Read More »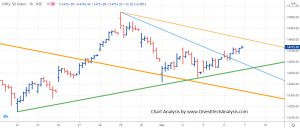 The last analysis levels worked perfectly. Both Nifty and Bank Nifty Index took exact support from the discussed support levels. Both will possibly hit the
Read More »