In the last analysis of Nifty Intraday Chart View, we discussed. We need to keep watch on 12055 levels for the next trending move. On the lower side, 11745 is the Significant Cycle no.
Yesterday Nifty made the low around 11866 levels. It was like consolidation day, as the whole range of yesterday was near to 100 points.
For Nifty short-term view, the Plan is same, we should keep an eye on the 12055 Resistance level, which will act pointer for next good move.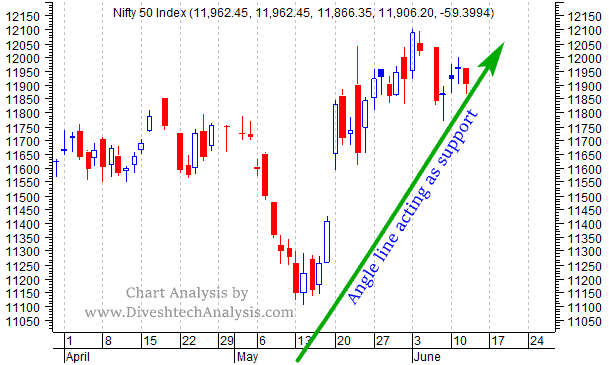 On the Nifty Daily Chart, yesterday it made the low near the angle line.
It is the same chart which I already posted before in my Nifty Weekly Analysis post here.
It will be critical to see if Prices trade below the angle line if it happens then fall of 100/150 points, can be seen in Nifty
Nifty Intraday Chart View for 13th June
Nifty Support for today in Intraday is at 11885/11850/11760 & Nifty Resistance is at 11937/11975/12060.
Note: Above mention price projection & other Information are for educational purpose only.