In the Last, Nifty Intraday Chart Analysis, we discussed. The range of 12010-12020 is the Resistance which Bulls, need to break for continuing there upside journey.
On Friday Nifty fell almost 200 points in intraday from near to 12020 resistance level.
In this fall Nifty made the low near 11829 level, and failed to move below 11790, which we discussed will act as support.
Yesterday Nifty opened on a positive note and made the new lifetime high around 12100 levels.
At present Nifty Bulls are in a strong position, and we can see further upside towards 12180/12285 levels. Bears have there chance only below 11900 price level.
Nifty Intraday Chart Analysis for 04th June
Support for today in Intraday is at 12030/11985/11890 & Resistance is at 12110/12155/12240.
Note: Above mention price projection & other Information are for educational purpose only.
Last week on Monday, after hitting a low around the critical Gann level, both Nifty and Bank Nifty traded higher for the rest of the
Read More »
Last week, Gold and Silver traded higher and gave the close in the vital zone. Both precious metals can show higher levels in coming sessions.
Read More »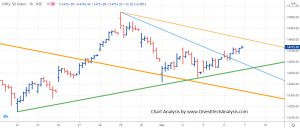 The last analysis levels worked perfectly. Both Nifty and Bank Nifty Index took exact support from the discussed support levels. Both will possibly hit the
Read More »