In the Last Nifty Intraday Analysis we discussed. Bears have the upper hand & for Bulls 11290 is the next support.
Index continues to make lower low daily. Yesterday Nifty hits two months low 11255 level.
In intraday Index get the support at 11290 & gave the bounce of 60 points.  
After Nifty hit two months low, at EOD it gave the closing above 11290 support level.
Note: Above mention price projection & other Information are for educational purpose only.
Last week on Monday, after hitting a low around the critical Gann level, both Nifty and Bank Nifty traded higher for the rest of the
Read More »
Last week, Gold and Silver traded higher and gave the close in the vital zone. Both precious metals can show higher levels in coming sessions.
Read More »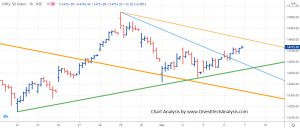 The last analysis levels worked perfectly. Both Nifty and Bank Nifty Index took exact support from the discussed support levels. Both will possibly hit the
Read More »