Our Last Analysis on Zinc,did all targets as per prediction…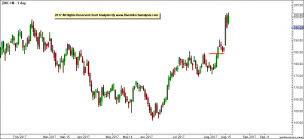 Whats Next ???  Here is Next View for Zinc…
202 – 204.20 most probably will be the Top for current swing for 195 / 190 targets, If we get close above 204.20 then in that case prices can shoot up to the New Life time price 215 & there again we expect the top formation
My Mission is to provide investors and traders with lasting, effective trading methods THAT WILL WORK IN ANY MARKETS,I can point you in the direction of where great gains are being made NOW, but, I can't make you take advantage of them. That's up to you. 
Make Yourself Ready!Learn the secrets & skills then apply them to the most profitable of markets.Take Action.
NOTE: These projections & views are not given in an advisory manner but only as an educational tool.