Gann Trade Secrets Volume 4 is now available for purchase.
The fourth book of the course is the most special book of the entire course.
Because the methods explained in Volume 4 are entirely different and unique. With this information, you can forecast price and time turning points.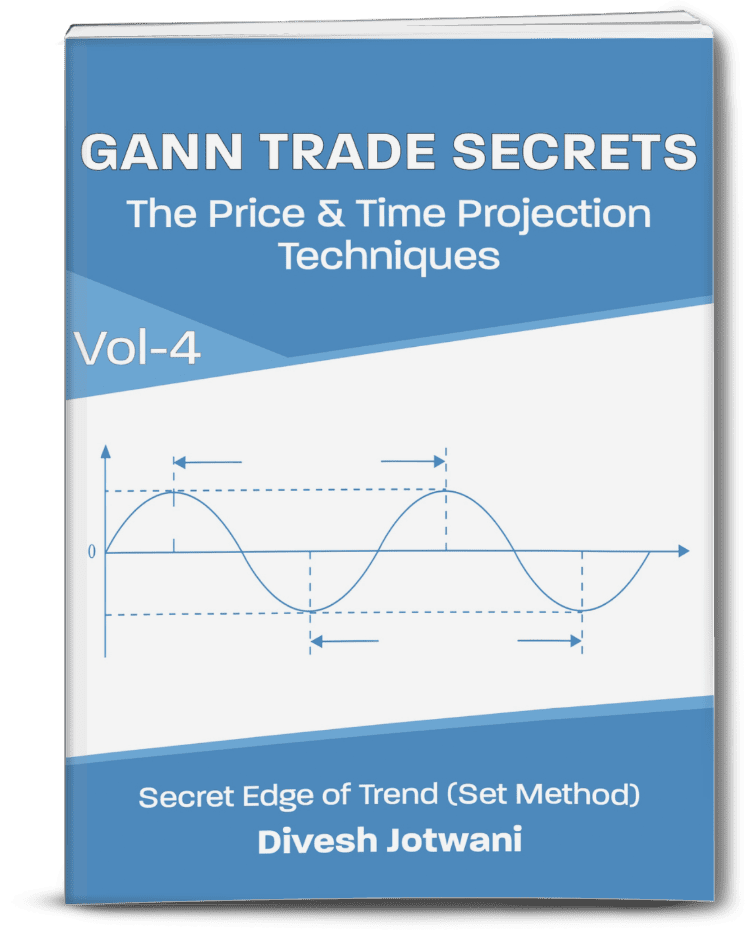 Here's a quick outline of the topics covered in Volume 4 of the course.
You will learn the Special Price Projection Technique first.
It's the same method through which I recently projected the TOP on the Nifty Pharma Index.
The purpose of this technique is to give you an understanding of WHY & HOW projections work. With this method, I teach you how to forecast the price levels where the market usually makes a top or bottom.
After that, you will learn the Time Projection Technique. 
Through this method, you can forecast both long-term and short-term timing points where the change in trend will occur. It is a unique time method that will build a deep understanding of the TIME FACTOR.
Lastly, you'll learn the Secret Edge of Trend (SET) Method.
It's one of the easiest and simplest methods of locating price turning points, and yes, this method also works for intraday charts. 
Frequently Asked Questions
Is it compulsory to purchase the course's Vol-1, 2 & 3 books before buying Vol-4?
Yes, it's compulsory. Without understanding the Vol-1, 2 & 3 principles and methods, you won't understand the Vol-4 methods.
Do the Vol-4 methods work for Intraday trading?
The Secret Edge of Trend (SET) Method works for intraday. And the Price and time Projection techniques work on the higher time-frame charts like daily, weekly, and monthly.
When will the next Vol-5 of the course get released?
The Vol-5 will get released on or before 31 January 2023.
How much does it cost??
For fees, please send an email to [email protected].
How long will you help me out in clearing my doubts?
The support from my end is valid for one year from the delivery date of the course.
What support do you offer to the students who invest in your courses?
If you have any questions/doubts regarding the content of the course, you can email me through dropsecure.com (it's free), and I'll reply to your question within 24 hrs.
Even after a couple of emails, if you are still not comfortable, I'll arrange a one-to-one session to solve your query and make you comfortable with the concepts.
I won't leave you alone after your purchase – it's my responsibility to ensure that your questions are resolved and that you are clearer with the methods. It's also one of the reasons why we sell limited copies (5 copies per year) so that we can give complete attention to students' questions and help them out.