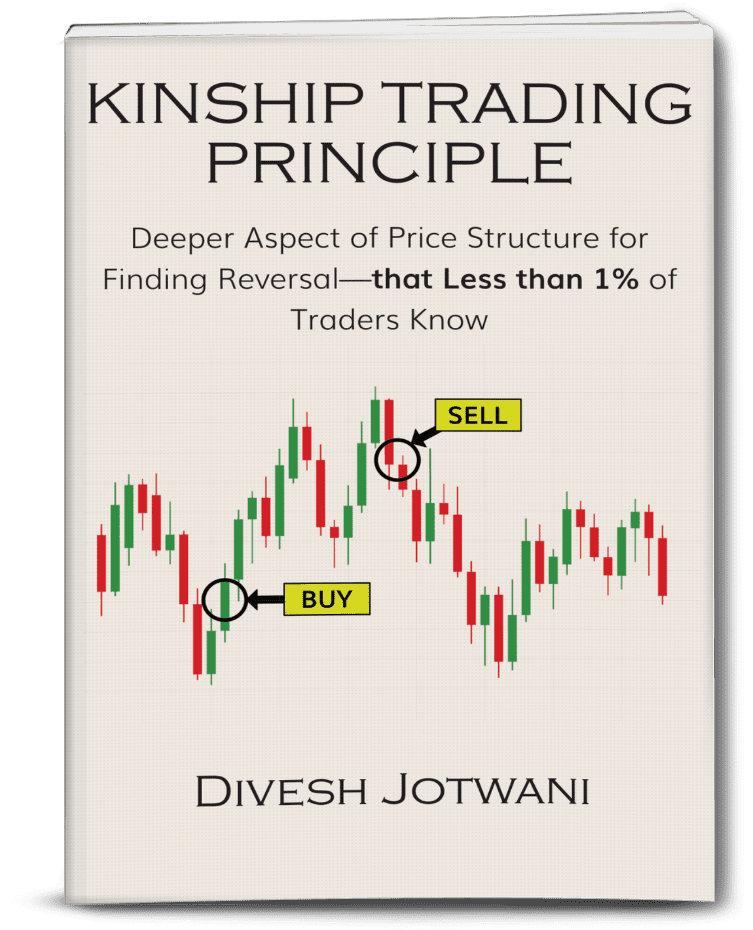 Kinship Trading Principle
Deeper Aspect of Price Structure for Finding Reversal – That Less Than 1% of Traders Know
Are you "constantly thinking" to take the right entry and right exit in the market (and mentally getting exhausted as a result?)
Whenever you open a chart do you always think about taking the right entry and right exit so that you can make a good profit? Your mind constantly tells you about the places where you should be looking to take the trades and when the price arrives at that place, it's the same mind that tells you it's not a good place to take the trade.
You're confused at this moment, because of the two conflicting thoughts within you. Sometimes you take the trade and sometimes you don't take the trade. The frustrating thing here is whenever you take the trade, it moves against you most of the time. And whenever you don't take the trade and stay away, it moves in your favor.
This not only happens when you're dealing with taking the entry. It also occurs when you're dealing with taking the exit. Your mind tells you to exit at one place. And once the price reaches there it tells you to wait for some more time.
Again there is a conflicting thought and you're not sure what to do. If you exit, the price continues its move giving you the feeling of missing the profit on the table. If you don't exit the trade, it continues to move against you, and all the paper profits that you see on the screen go down.
These conflicting thoughts lead to a "constant stream of thinking" throughout the market hours and at the end of the day, you feel mentally tired and exhausted. The real problem here is the mind that is not able to understand the "probabilistic nature of the market" where we are looking to earn profit over a series of trades.
How do we help the mind so that it understands the game of trading?
Introducing Kinship Trading Principle – A system that helps you to "go with the flow" of the market (thereby eliminating the need for "constant thinking" in your trading)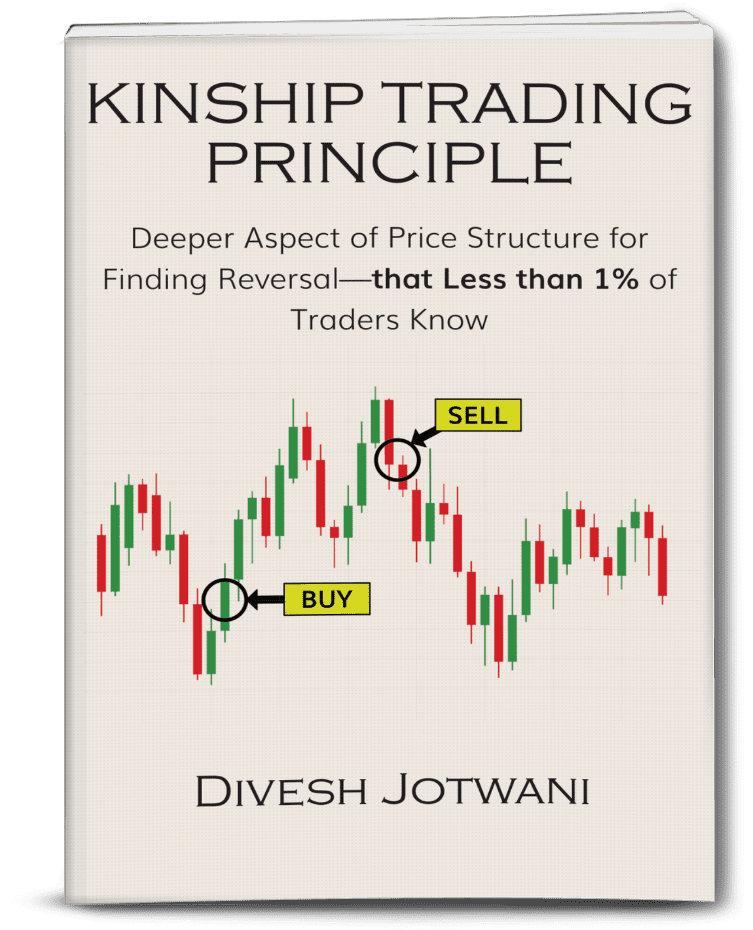 The system is built upon a deeper aspect of Price Structure where you are given instructions on how to draw the price levels on the chart as price movement is happening. These levels are drawn on the chart based on the concept called "space" which was widely used by Gann but only a few know how to really draw them and apply them in real-time on the market.
Your task as a trader is not to think about where the price might move in the future, but rather you draw these levels on the chart and wait for the price to close above/below this level. If it's closing above the level, you're looking to go long and if it's going below the level you're looking to go short.
You're not looking to exit your trades; you simply draw these levels and reverse your trades from long to short or from short to long. In essence, you will be "going with the flow" of the market – if it gives a loss you take it and move forward to the next trade, if it gives a profit you take it and move forward to the next trade. This attitude will really help your mind to understand the nature of trading. Once it understands and is able to relax, you have totally eliminated the need for "constant thinking" in your trading.
"Through using the Kinship method for the past 6 months, I was able to gain the fees I spent on the course plus a decent profit!"
Before joining the Kinship course, I had many terrible experiences with different trainers. I was using 5 trading indicators because trainers taught me that.
But when you gave me your course details and cleared each of my doubts about the course with confidence. That made me think and trust you to join the course.
Since then, I'm only using the Kinship method for trading, and in the past 6 months, it has helped me gain back the fees I spent on your course. Plus, I'd also made some additional profits on the cash stocks! I will reach out soon to join other courses. Thank you.
– Khushi Mehta
What will you learn with this course?
How to locate the change in trend using "Space theory"?
How to calculate the Price levels that tell where to enter and where to exit?
How to use this Principle in day trading as well as Swing/Positional trading?
Over 75+ example charts to help you to absorb the concept well.
"I found Divesh to be very helpful and honest; He gave me all the needed information and told me no method works 100% of the time!"
I do not write reviews or ratings, not even on Amazon or Flipkart. However, I took the time to write this testimonial for three reasons:
First, I like helping others, and this course is what people need to trade successfully.
Second, Divesh was very helpful and truthful. I emailed him before buying the course to know more details. He answered all my questions and made everything clear.
Also, he told me that no method works 100%. So don't expect to win every single time you use this technique. Instead of tricking me into believing the method would perform 100%, Divesh was honest and transparent.
Third, I could only find one other trainer who offered Gann Courses. I don't want to say the course was bad. However, I traded with the suggested methods, which didn't work well.
When I found Divesh's website, I wasn't looking for another course. Instead, I was trying to find details to show my elder brother since he is a huge doubter who says that trainers do not teach the real Gann methods and only promise wrong things.
After finding the site and getting truthful information, I tried it. So, I speak from experience when I say to try this course. You will not be disappointed.
– Kalimohan Reddy
Frequently Asked Questions
Is this course easy to learn? I'm just a beginner at trading.
Yes, the concepts explained in this document are easy to learn. It can be used by traders, regardless of their background experience in trading.
Do I need to have any software to learn or use this course?
There is no need to have any specific software. As long as you have access to any trading software or to any websites from which you can access charts, then you can use it. In fact, you can even print out the chart, and still, be able to use the knowledge on the printed chart.
I heard that Gann's methods are all about astrology. Is that true? Do I need to have any knowledge of astrology?
It's a huge myth and it's totally wrong. You don't need to have any knowledge of astrology. All you need is a chart and use it the way our course material suggests.
The concepts explained in the courses will stop working after some time?
These concepts are based on natural universal laws and mathematics. And they will continue to work forever.
It's like 1+1=2. Will this equation change after 20 years? No, because it's based on mathematics. And math can't go wrong. It's the same with all our methods which we teach here. They can be learned once and can be used forever.
Does the course work only for a specific chart and on a specific time frame?
No, the course content explained will work on all charts – be it stocks, futures, currency, or commodities. And it can be used on all time frames ranging from 3-minute charts to 1-month charts.
We have students from different trading backgrounds. Some of our students are day traders and some of them are swing traders. Some trade stocks, some trade futures, and some trade commodities. But our concepts/methods can be applied on any chart and in any timeframe, regardless of your trading style.
How much time should I need to invest in this course?
You can read the contents of the course in a couple of hours.
But after reading, I suggest you to practice them on charts for a minimum of 1-3 months to hold a solid grasp of the concept. Once you are confident, then you can start taking real trades.
What's the success percentage of this method?
The success percentage of the method is good. But there is no direct answer like 80% or 90%. It's the trader's responsibility to take all the trades whenever there is a signal. And also to have an understanding of the probabilistic nature of trading – where we are looking to profit from over a series of trades.
For example, the first three trades might end up in small losses, and the fourth/fifth trade might be a big winner. What if, if the person doesn't take the fourth and fifth trade due to fear? And then people start to blame the concept/method than trying to understand the game of trading which is to take all the trades as given by their method.
I suggest students understand the concept and take a minimum of 20 trades whenever there is a signal. This will help you to shift your focus from worrying about the success percentage of the method to profiting from a series of trades perspective.
Why are the course prices high when compared to other online trading courses?
The course fees are high because all these courses/methods are the result of 20+ years of research into Gann studies. They are uniquely designed and original and cannot be found anywhere on the internet either for free or paid.
Why you should consider investing in the course now?
There are 2 reasons.
1. Your goal is to become a professional trader:
I know many people who try out "trading" without putting in serious work. And no wonder they lose their money in a short amount of time and quit trading completely. Our courses are not designed for these people.
The intention behind these courses is to really make you a professional trader – who is serious about putting in the time, money, and effort. If you approach trading from this angle – to become a professional trader, then these course prices are relatively moderate and accessible.
People spend a couple of lakhs in engineering, medicine, etc. because they are highly aware of the benefits that they're going to reap later. It's the same with trading as well. If you invest in the right source, a few years down the line, you'll be able to reap the rewards and you'll be happy that you took the decision for yourself.
2. Course price might increase in the future:
The price of our courses might increase in the future, due to its uniqueness and limited copies we sell each year (we sell only 5 copies of this course in a year). So you might consider investing now, then waiting for the future.
Is there any Money Back Guarantee with this course?
We don't offer any money-back guarantee. But we guarantee 100% satisfaction with trading knowledge through our courses which you cannot find elsewhere either online or offline. This alone gives you a unique advantage over other traders and separates you from the crowd.
What sort of support do you offer to the students who invest in your courses?
If you have any questions/doubts regarding the content of the course, you can email me through dropsecure.com (it's free) and I'll reply to your question within 24 hrs. Even after a couple of emails, if you are still not comfortable, then I'll arrange a one-to-one session with you to solve your query and make you comfortable with the concepts.
I won't leave you alone after your purchase – it's my responsibility to ensure that your questions are resolved and you are clearer with the concepts/methods. This is also one of the reasons why we sell limited copies (5 copies per year) so that we can give complete attention to student's questions and help them out.
How long will you help me out in clearing my doubts?
The support from my end is valid for one year from the delivery date of the course.
Do you have any group on WhatsApp /Facebook to support your students?
The support system is only strictly via email, and we don't have any social media platforms for discussion.
Are you really a trader who trades the market and earn money from it? (As there are so many trainers nowadays who just teach and earn money without having any real-time experience in trading)
Yes, I'm a full-time trader. I trade for my living in the past 20 years and I'll be trading for the rest of my life. I know various methods not just theoretically, but I also apply them in the market practically and earn money in the process.
Here are a few of the screenshots from my trading account (trades taken based on the Kinship method)
What's Unique About This Course?
The concept of "SPACE" plays an important role in the market. Of the many concepts used by W.D. Gann in his trading, space was one of his important concepts.
Kinship is a structure that represents the bonding between the present and the past. It's purely a scientific and mathematical approach to trading. Only a few traders know how to apply the concept of space in real-time trading.
First, you're given the introduction to the concept of space followed by how to make use of it to draw price levels in the chart. There is a sequence of steps that you need to know how to draw these price levels. These price levels by themselves reveal the reversal of trends in the market.
You just have to learn to draw and follow these price levels, which totally takes you out of the "thinking" enabling you to execute the trades flawlessly.
How do I buy this course?
Please note that when you've decided to buy any of our courses, you've to sign a Non-Disclosure Agreement contract with us to not share the contents of this course with anyone in any way/any means.
We give access to our courses only to people who sign this agreement with us. If you are not interested in signing a Non-Disclosure Agreement contract, please do not consider investing in our courses.
We sell only 5 (five) copies per year of this course. Our intention is not to cater to the masses. But to sell it to few people who want to really understand the nature and truth of the market.
What are the steps involved in purchasing this course?
Below is the sequence of steps which you've to go through to purchase this course.
Step 1: Send an email to [email protected] – expressing your interest in purchasing this course.
Step 2: You will receive a KYC form and Non-Disclosure Agreement contract from our end which you have to fill out and send us back via email.
Step 3: Once we receive the signed copy of the KYC form and Non-Disclosure Agreement Contract, you'll receive an email containing the bank ac details for transferring the course fees.
Step 4: After we receive the course fees, we'll email you the instructions to download the course files to the email which you've mentioned in the Non-Disclosure Agreement Contract.
The whole process is smooth and I'll guide you at each and every step. If you're stuck or need help at any stage, email me immediately at [email protected] – I'll help you out as soon as possible.
Kinship Trading Principle – Deeper Aspect of Price Structure for Finding Reversal – That Less Than 1% of Traders Know
The Course Booklet (A Protected Digital PDF) for a Lifetime Access, with a One Year of Personal Support
HoKinship Trading Principle – Deeper Aspect of Price Structure for Finding Reversal – That Less Than 1% of Traders Know
The Course Booklet (A Protected Digital PDF) for a Lifetime Access, with a One Year of Personal Support
Important Details
In case of any issues related to payment, feel free to send an email to [email protected] – I'll help you out as soon as possible.
Once your payment is completed, you'll receive an email about the steps involved in accessing the pdf document.