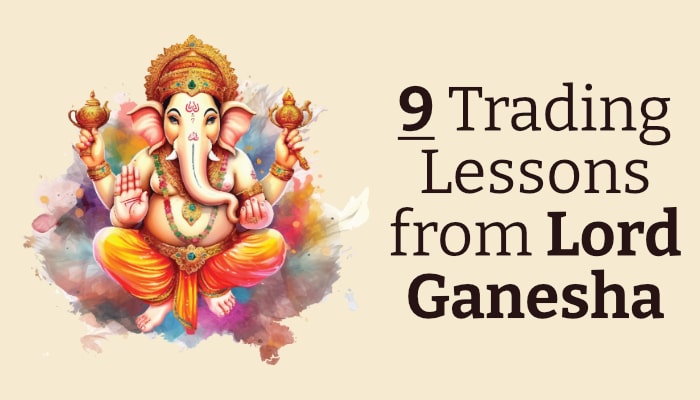 Obstacle Removal: Risk Reduction Strategies
Lord Ganesha's foremost quality is his ability to remove obstacles. Trading involves various risks — be it market volatility or emotional bias. A seasoned trader like Ganesha must manage these risks. Investment diversification and utilizing stop-loss orders can be your 'Vighnaharta' (obstacle-remover).
Big Ears, Small Mouth: Listen More, Speak Less
Listen More, Speak Less. Lord Ganesha has large ears and a small mouth, signifying the wisdom in listening more and speaking less. Traders must apply this lesson by observing Market trends and absorbing insights before making Impulsive trading decisions.
The Broken Tusk: Change and Innovate
When Ganesha broke off his tusk to write the Mahabharata, he showed the world that sacrificing a part for the greater good is beneficial. Traders can learn the importance of adapting to market situations and being willing to make hard choices for long-term gains.
The Mouse as a Vahana: Control Over Desires
Ganesha's unconventional choice of a mouse as his vehicle symbolizes control over desires and temptations. In trading, impulses are your mouse. Maintain control over them, or you'll lose your way.
Single Tusk: Focus and Dedication
Lord Ganesha's single tusk indicates the importance of focusing on one thing at a time. Trading demands a similar level of focus; being a jack-of-all-trades but a master of none can lead to distractions and losses.
Wide Belly: Absorb Life's Good and Bad
Ganesha's wide belly teaches us to absorb life's both positive and negative experiences. Trading involves wins and losses. Learn from them, don't react emotionally, and make more informed decisions in the future.
The Swastika: The Cycle of Booms and Busts
The swastika is a symbol commonly associated with Lord Ganesha. It represents life's eternal nature, Integrating birth cycles, preservation, decay, and regeneration. Markets also function in cycles; recognizing the stage of the cycle you are in can be invaluable for making wise trading decisions.
The Axe: Cut Your Losses
An axe is one of the objects in Ganesha's hands. As a metaphor, this serves as a reminder to traders to 'Cut their losses.' Detaching yourself from underperforming assets is vital to long-term success.
Dhurva Grass: Humility in Success
Often, Lord Ganesha is offered Dhurva Grass, a simple and resilient plant that symbolizes humility and resilience. The market is no place for egos. Even the most successful traders are humbled eventually. Remembering this can help you remain resilient during downturns and humble when successful.
"A very Happy Ganesh Chaturthi to you and your family. May Ganpati Bappa bless your life with wisdom and strength to achieve every goal". – Divesh